Automating Your Client's Online Reviews to Generate More Business
---
So, how important are online reviews to consumers? Survey says:
Very!
Let's dive into some of the most interesting results to learn why consumers are relying on online reviews more, and why it's critical that your business has an expansive arsenal of positive reviews.
Or, if you're already convinced of how crucial online reviews are to your business, skip past that section to read how you can generate more positive online reviews for your business.
How to Generate Online Reviews for Your Business
So how do you capitalize on this to generate more positive online reviews for your business? Here are some ideas that businesses of all types can utilize.
Dominate Search Engines With Your Review Presence
Socialnomics reports that for the world's largest brands, 25% of search results return user-generated content from review sites, blogs, and social media updates.
If people are writing about your brand on external review sites and on social media anyway, don't you think you should be in control of the conversation, and even encouraging it!
Grab hold of your presence on external review sites like Yelp! (you can learn how to optimize your presence in this blog post about improving your Yelp! presence), Google Places, and Insider Pages, and give your social media accounts some real estate dedicated to online reviews. Then — and this is the key to your success here — ask people to give you reviews.
Create a Designated Review Space on Your Website
A great example for this is…
Housecleaning franchise Molly Maid executes this well with its dedicated testimonial section.
You can do this quickly for your own website by setting up a landing page with a form prompting customers to share their experiences with you. You don't need a lot of fields — just 'Name,' 'Email,' and 'Write a Review.' If you're in a service-oriented business, I recommend linking to this form on your website's homepage so your customers don't have to dig deep to find where they can provide feedback.
Send an Email Marketing Campaign Dedicated to Generating Reviews
After a customer completes a purchase (and if you sell products, has received it and had time to use it), send a follow-up email marketing campaign asking them to write a review. Give them the option to share their opinions publicly or privately. If you have a weekly or monthly newsletter to update customers on new offerings, consider including this as a call-to-action in those emails, too. You can even create a survey to get more detailed feedback that helps you make product and service improvements!
Include Links to Your Review Properties in Your Email Signature
Links should be included in the email signatures of everyone in your company, especially those interacting with customers on a daily basis. Be sure to provide links to all of the places someone can give a review; it gives customers the option to choose the review site they use most frequently, the social media account they feel more comfortable with, or simply to submit a review to you via email or on a landing page on your website.
Leverage Your Blog
If you're the awesome inbound marketer I know you to be, you're an avid blogger who is always looking for a hot new article topic. Take a cue from sites like UncommonGoods, which aggregates user-generated content for blog content. UncommonGoods encourages its customers to send in comments about their products and picks some of them to feature in blog posts. They tag these blog posts 'Product Reviews,' or you could choose something like 'Customer Reviews' for your own business.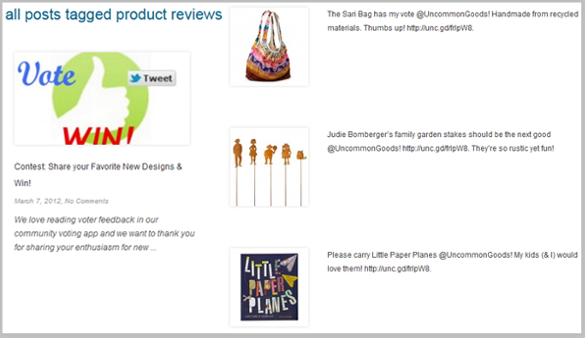 Aggregating comments in this manner not only feeds your blog, but it also lets you bring in reviews from all your online properties — Twitter
via A marketers guide to accumulating awesome online reviews
Join social networks.
Even if you don't feel like you have time to be active on these sites, do join them and take the time to fully fill out the profiles. As most of us know, the major sites are Facebook, LinkedIn, Twitter, and Google+.
Optimize your presence on these sites.
Do fill these sites out as fully as you can, customizing the URL when you can and repeating your name where appropriate.
Keep private things private, while assuming nothing is truly private
All the experts say you should never post any pictures of yourself that you don't want the world to see.
via 6 steps to managing your online reputation.
Managing Online Reputation and Clients reviews is possible when you take the right steps. Here at HeyGoTo Marketing, we are more than welcome to help you take your business to the next level.
Related articles
The following two tabs change content below.
My Mission is to Motivate & Empower others to Genuinely Succeed with Online Marketing through Training & Mentoring!
Latest posts by David Moceri (see all)
---
This post was written by David Moceri
---