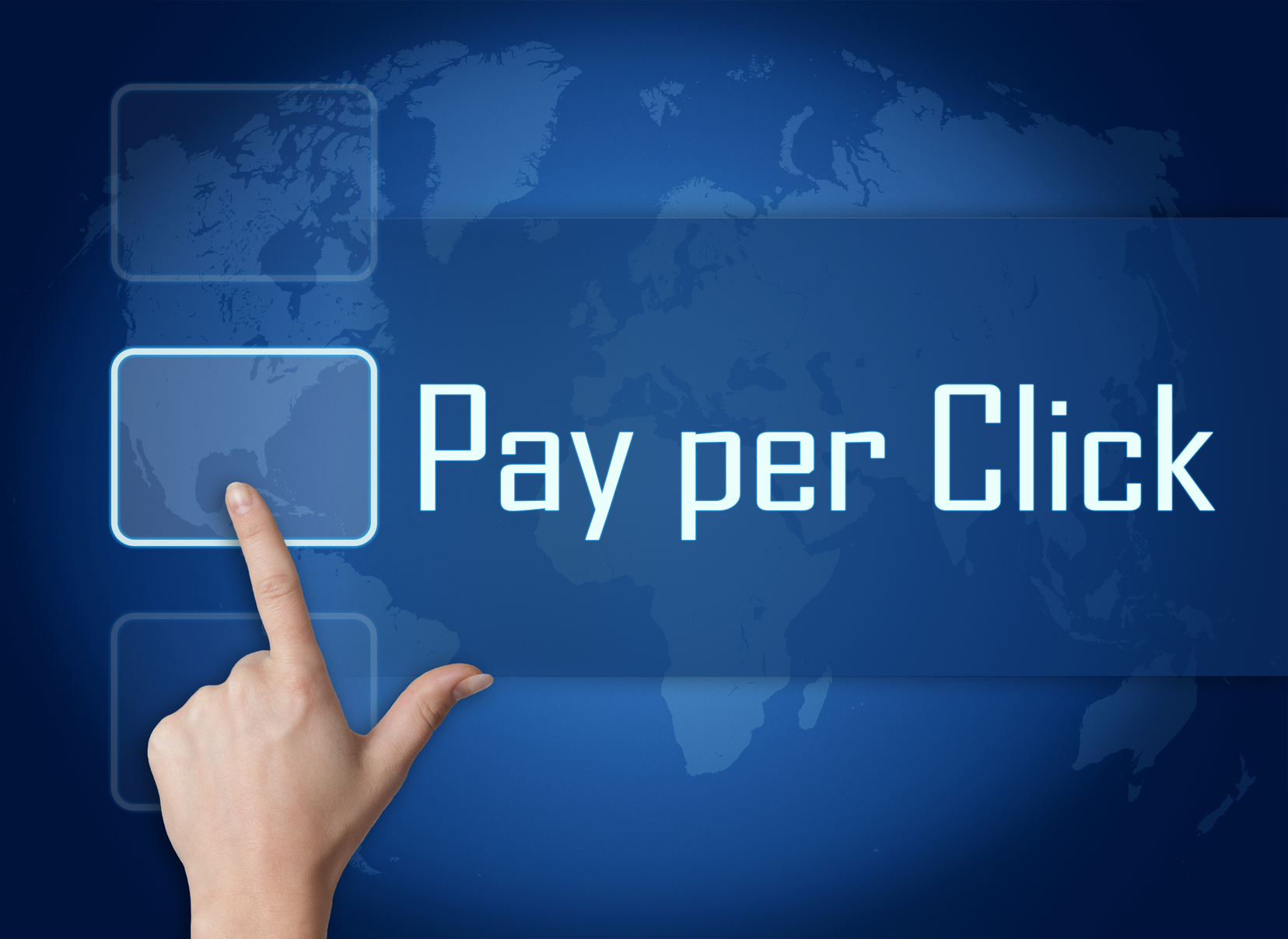 Importance of PPC Ad Campaigns
---
WHAT IS PPC?
PPC stands for pay-per-click, a model of internet marketing in which advertisers pay a fee each time one of their ads is clicked. Essentially, it's a way of buying visits to your site, rather than attempting to "earn" those visits organically.
Search engine advertising is one of the most popular forms of PPC. It allows advertisers to bid for ad placement in a search engine's sponsored links when someone searches on a keyword that is related to their business offering. For example, if we bid on the keyword "PPC software," our ad might show up in the very top spot on the Google results page.
Via – What Is PPC? Learn the Basics of Pay-Per-Click (PPC) Marketing
THE ROLE OF PPC ADVERTISING
Most businesses can't afford to solely rely on PPC advertising. It's too expensive, and bid amounts inevitably climb. But pay per click can fill a few important roles:
Campaign- and issue-based traffic: If you have a short-term campaign for a new product, service or special issue, pay per click can be a great way to generate buzz. You can start a pay per click campaign within, at most, 24-48 hours, and you can generally change the text of your ad in mid-campaign, so adjusting your message is easy. If you need to focus attention for a finite amount of time, PPC is perfect.
Direct-response business: If you sell a product or offer a service that folks can purchase the moment they arrive at your web site, pay per click is a great tool. Online stores are a great example: You know that each click generated is a real potential customer, so spending money to increase the number of clicks makes sense.
Niche terms: If you are trying to generate traffic for a highly specific keyphrase, PPC can often provide bargains. For example, you might not want to pay the top bid for 'bicycles', but 'Landshark Bicycles' is probably a lot less expensive ($.10 per click as of this writing, actually).
Via – Pay Per Click Management Explained
Recommended Article: Improving Your Website's Customer Retention Strategy
PPC ads are a great option to compliment your inbound marketing efforts and maximize your coverage on.  We've outlined 5 reasons why you should create and manage a paid search campaign for your business:
1) Speed-to-market – Unlike organic SEO, PPC ads can be launched quickly, bringing in targeted traffic and qualified leads to your website.
2) Reach – Additional traffic can be sent to your website, expanding your online visibility and helping you establish your company as a leader in your industry.
3)  Highly-targeted website traffic –Assigning different ad copies for specific keywords and demographics can dramatically increase the quality of website traffic.  PPC ads can be scheduled to run during the best sales periods and in specific geographic regions.
4)  Testing Capabilities – PPC is a great way to provide low-risk testing for keywords, enabling you to determine if a full site optimization campaign is worthwhile.  It's also great for landing page A/B testing, allowing you to direct traffic to your choice of different pages of your site in order to find which pages convert at the highest rate.
5)  Maximize the return on your marketing investment – Because you pay for PPC only when an ad is clicked, it's easy to manage costs, track conversions, and determine your ROI.  Cost-per-conversions are valuable when comparing your PPC campaign ROI against other marketing tactics.  Data is reported accurately and correctly and campaign results can be tracked extensively.
Via – 5 BENEFITS OF PAY-PER-CLICK
AN EFFECTIVE LANDING PAGE DONE BY PROFESSIONAL BY FOCUSING ON CONVERSION RATE OPTIMIZATION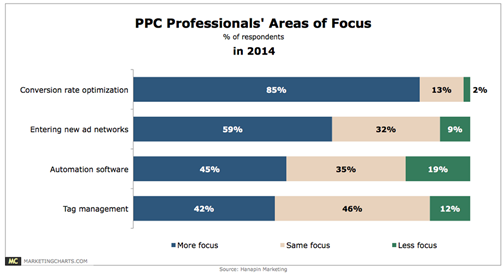 The chart above is a clear indication that majority of PPC professionals will go for focusing on conversion rate optimization. 85% will go for this option and will depend largely on how well you setup your landing page and how it will generate favorable action from your targeted customers. Important aspects in your landing page that you should heavily focus on are:
Relevance – Your landing page should be relevant and highly associated with what your PPC ads are saying. You will never generate a favorable result if you are talking about one thing in your PPC ads (which enticed targeted audiences to click on our ads in the first place) and another matter in your landing page. 
Call to Action – Just like the importance of the CTA to your ad, having a clear and concise Call to Action with your landing pages will spell the difference between generating leads or sales and people leaving your page – simply because they do not know what to do next. 
Tracking and Monitoring – Tracking the performance of your ads is important in your overall PPC marketing campaign to enable you to gauge if your program and campaigns are running smoothly and delivering results according to your plan. You can make use of analytics provided by your ad network or use third party analytics packages that can help you track traffic and conversions among others.
PPC marketing is still a very important and effective digital marketing tool that business owners and digital marketers can fully utilize to help them boost the success of their overall marketing campaigns. Knowing the process is simply not enough as you need to know and be familiar with important parts that are key to PPC marketing success.
Via – 8 Most Important Parts of A Successful PPC Marketing Campaign
You May Also Like: Online Reputation Management: Improve Reputation for Businesses
10 REASONS WHY YOU SHOULD HIRE A PPC MANAGEMENT EXPERT
Keyword Research Isn't Easy
Wrong Ad Copy Could Result in Low Conversion
Tracking Requires Technical Expertise
Do You Understand All the PPC Terminology?
Campaign Settings Can Be Confusing
Do You Know What a Good Landing Page Looks Like?
Prior Experience with Similar Clients
Is There Click Fraud Going On?
Keeping Up with the Latest Changes
Do You Really Have the Time?
Via – 10 Reasons to Hire a PPC Management Expert
The following two tabs change content below.
My Mission is to Motivate & Empower others to Genuinely Succeed with Online Marketing through Training & Mentoring!
Latest posts by David Moceri (see all)
---
This post was written by David Moceri
---