Quick Guide to Improve Your Video Marketing Strategy
---
Video marketing strategy continues to skyrocket amongst online audiences. In fact, 43 percent more videos were watched online from 2013 to 2014. That's 38.2 billion videos in 365 days.2 Those are some staggering numbers, and most marketers are starting to appreciate that numbers like these translate to huge opportunity when shifted into a business context.
While many have seen quick success implementing basic video marketing tactics and using YouTube to scale their video libraries, most don't yet have an appreciation for how to approach this channel in a strategic manner and what the real potential is for video technology within the context of modern marketing and sales programs. But those catching on are seeing a real, and measurable, impact on their marketing and sales goals, not just higher view counts.
A recently released report from Forrester, "Market Overview: Online Video Platforms for Sales and Marketing," offers a data-driven guide to help modern marketers wrap their heads around where video marketing technology is headed and how to tell their compelling stories via video.
Whether you're in a marketing, sales, or IT role, and whether you're thinking about the why, when, or how of investing resources in online video, this report is an imperative read. It provides practical insights into developing a structured program around your video content, offers viable examples from big-name companies already grounding their marketing in online video
Via – 3 Rules for Better Video Marketing
7 REASONS WHY YOU SHOULD HAVE A VIDEO MARKETING STRATEGY
To increase click-through rates (CTR) of your online ads.
To drive brand awareness for my business or product.
To increase foot traffic to my retail location.
To increase brand trust by using professional looking video on my website.
To increase social media engagement with your followers.
To increase organic search results for your local business.
To build brand trust by being an industry authority.
Via – 7 Reasons Why You Should Have a Video Marketing Strategy
HERE'S 5 TIPS ON HOW TO IMPROVE YOUR VIDEO MARKETING STRATEGY
TIE BUSINESS GOALS TO YOUR VIDEO
Views, likes, comments and shares are nice. But they're also open-ended. It's hard to say whether they contribute to your bottom line.
What 'real' business goals can you tie to a video? Are you looking to increase revenue by…
selling products, services or tickets?
getting people on an email list?
getting people to contact you?
Or maybe you are looking to reduce costs by decreasing:
the number of returned products?
the number of calls to your help desk?
the number of emails with questions you receive?
All of these metrics influence your revenue — directly or indirectly.
Do you see how tying one of these goals to your video makes it much easier to prove or increase your ROI?
Via – WHAT IS A VIDEO WITHOUT A VIDEO MARKETING STRATEGY?
CREATE EACH VIDEO IN MULTIPLE FORMATS
You'll need this for distribution, and it needs to be planned upfront. For example, videos on YouTube can be a bit longer, like up to 3-5 minutes. But on Facebook, any much more than 30 seconds and engagement will tank. And for Instagram, the max is usually 15 seconds.
Also consider audio – Facebook videos get played without it, so you'll want to add captions or text. Make sure that text is big enough to be read on a phone… most videos on social media will be viewed on mobile devices.
For more specifics on the optimal formats for videos on every platform, see Conductor's fab infographic, 7 Channels for a Killer Video Distribution Strategy (excerpted below).

Via – How to Craft an Effective E-commerce Video Marketing Strategy
Types of Effective Video Marketing
Video marketing works best when it has a purpose. "Creating a viral video" doesn't have a purpose. Here are eight examples of different types of marketing videos with a purpose that we cover in our guide:
Testimonial videos – to build trust.
Product demo videos – to boost conversion.
Web presenter videos – for engagement.
Corporate stories – to grow brand awareness/trust.
Animated "explainer" videos – to explain a concept or service.
Interviews – to boost engagement and awareness.
Comedic videos – to build brand favourability.
Instructional 'How to' videos – to create trust and engagement.
Via – Video marketing
EMBRACE YOUTUBE ADVERTISING
Paid media is a critical part of effective video content marketing. YouTube TrueView ads are not the same as Google's AdWords. Our experience demonstrates YouTube advertising can deliver 10 times the click-through rates when compared with traditional AdWords and video ad networks. It delivers results through diverse hyper-targeting options: contextual, behavioral, geo, retargeting and search. The key is that you need to experiment.
YouTube advertising is meant to drive both engagement and calls to action. Increased engagement leads to increased sharing, which leads to increased and sustained long-term views and social interaction. For example, Pixability uses YouTube ads to promote its campaigns, such as the book launch for "Video Marketing for Dummies."
YouTube ads result in sustained increased organic traffic (& business).

YouTube is no longer just a nice-to-have marketing platform. It's a must-have video content marketing engine. More importantly, YouTube and online video respond very positively to effective, actionable and well-targeted video content marketing.
Via – Video Content Marketing: 4 Elements of An Effective Strategy
MUST HAVE CALL-TO-ACTION (CTA)
End your videos properly by creating a call to action slide that will turn to valuable conversions for your brand. Don't end your video with a black screen, it will help if you also ask a question, and cultivate conversation among your viewers.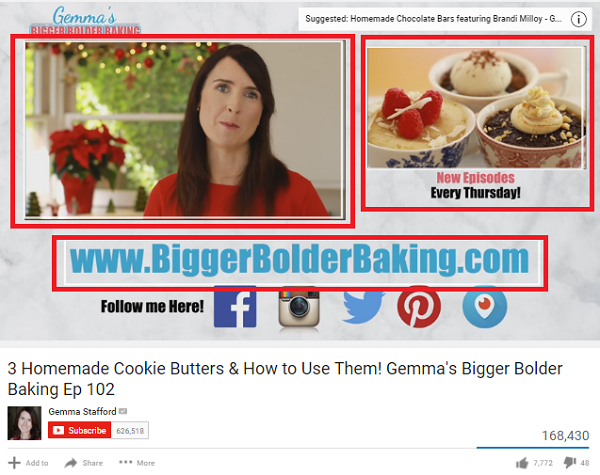 Chef and YouTube favorite Gemma Stafford does this well by incorporating two different CTA links at the end of her videos, one points to her official website, while the other prompts the viewer to watch a related video.
Via – 5 Ways to Improve Your Video Marketing Strategy
LASTLY, DETERMINE HOW YOU'LL MEASURE PERFORMANCE
In the same way you track KPIs for written content, you need to produce, release, then review your videos and their associated analytics in order to justify your investment in the medium. Metrics might still be a scary word, but video is actually easier to measure than you might think. Because video is distributed in a "player" or "container", you can get data for wherever your video is syndicated through a video marketing platform. What's more is that your video data can contribute to more accurate lead scoring as you'll be able to see which prospects are watching which videos, and for how long.
Some metrics you should track for each video campaign you release, include:
Attention span and drop-off rates: Do >60% of your audience make it to the end of your videos on average?
Click through rates: Split test the results for email content with and without video content.
The total amount of your video content leads consume: How many videos do individual leads watch in a day? A month? A week?
Via – How to Plan Your Video Marketing Strategy
Here is a Checklist to Review Before You Hit that Record Button
Decide the purpose and outcome you want from your video.
What's the story you want to tell?
What's your call to action?
Is long form or short form going to serve your audience best?
Which platform will you focus on first? (based on the type of videos you plan on producing)
Are you going to use your smartphone or webcam?
Make a list of bullet points you plan to cover. What do you want to convey in your video? (don't forget your call to action)
Relax, turn on the camera and speak.
If you don't like it, delete it.
When you're happy with your video, promote and post it on other platforms.
Ask your audience for feedback and ideas for topics.
Shoot another video!
Via – Advanced Video Marketing Strategies for Social Media
 You May Also Like:

Related articles
The following two tabs change content below.
My Mission is to Motivate & Empower others to Genuinely Succeed with Online Marketing through Training & Mentoring!
Latest posts by David Moceri (see all)
---
This post was written by David Moceri
---