Top 5 Reasons Why Your Business Should Be Visible Online
---
The rapid growth of internet users has increased drastically over the years which also broadens the range of online marketers from digital marketing to video marketing to social media marketing and to almost anything that moves online.
For business startups, it is crucial to think and plan ahead on business growth before you get stuck into a dead-end. Well, there's really no need to speculate if online marketing works.
Digitizing your business to promote your brand and expanding your online presence doesn't necessarily mean you only have to put up a fancy website but you also have to nurture it and get acquainted to it in order to understand what your audience needed.
Once you do, it will be time for you to start selling and get the highest ROI that will keep your business alive for as it takes. Online Marketing is all about creating best strategies and converting online user to customers.
If you understand it or do have some knowledge about it, you would know these are just tiny pieces of the overall idea of online marketing.
Starting or managing a business could be a struggle for some especially if most of your competitors are already ahead of you but it doesn't mean you are already failing. It only means it's time for you to play along.
If you think your business is failing, consider doing these:
REASON #1: FACEBOOK MARKETING CONTINUES TO RISE
Think of the best opportunities you can find on Facebook. Ask yourself these questions:
Who's on Facebook?
Can I market on Facebook?
Will it work?
Who's On Facebook?
According to Pew Research Center, as of September 2014: 71% of online adults use Facebook.
Which makes it the best place to market your products and services and acquire new customers and even retain the old customers.
Can I market on Facebook?
Facebook has evolved from an exclusive networking site into both social network and marketing platform. You may use the free tools such as pages, groups, ads and insights to market your business. Though it may take some time to build up a fan base in order for you to start seeing some movement in your ROI.
Will it work?
Absolutely! It only needs a proper profile set up to build your reputation inside Facebook and a full-proof marketing strategy to make it work effectively.
REASON #2: MOBILE MARKETING WILL DOMINATE OVER DESKTOP
Think of the best opportunities you can find on Mobile. Ask yourself these questions:
Who's on mobile?
Can I market on mobile?
Will it work?
Who's On Mobile?
According to Flurry's Statistics:
The mobile industry has matured rapidly in the past 7 years into the mobile revolution, Flurry tracks over 2.1 billion smart devices, worldwide on a monthly basis. While the growth rate has declined (58% in 2015 compared to 76% in 2014 and 103% in 2013), it remains stunning as rates like these are rare in mature industries. What was even more impressive is the majority of that growth rate came from existing users versus new users. In 2015, Flurry estimated that 40% of the 58% total growth in sessions came from existing users, compared to 20% in 2014 and 10% in 2013.
This estimates cover the total mobile users worldwide and makes it a very valuable fact to include mobile user as prospect target for marketing your business.
Can I market on Mobile?
There are several types of mobile advertising that exist today that includes:
Mobile User Facts:
74.1% use text messaging

50.2% download apps

49% use a web browser

36% access social networking

33.1% play games

25.8% listen to music on phone
Will it work?
It is undeniable that mobile is the easiest access to the market and to the world nowadays. As mobile usage and devices has continued to proliferate over desktop, the mobile advertising. It is a fact that marketing on mobile offers uniquely great benefits for online marketers and businesses to reach not only the local market but also the domestic and international market.
REASON #3: ONLINE MARKETING OPPORTUNITY FOR YOUR BUSINESS
Think of the best opportunities you can find in Online Marketing. Ask yourself these questions:
Who's Online?
Can I market online?
Will it work?
Who's Online?
According to Internet Live Stats:
Around 40% of the world population has an internet connection today. In 1995, it was less than 1%.
The number of internet users has increased tenfold from 1999 to 2013.
The first billion was reached in 2005. The second billion in 2010. The third billion in 2014.
View Exact Numbers Here Today: Internet Live Stats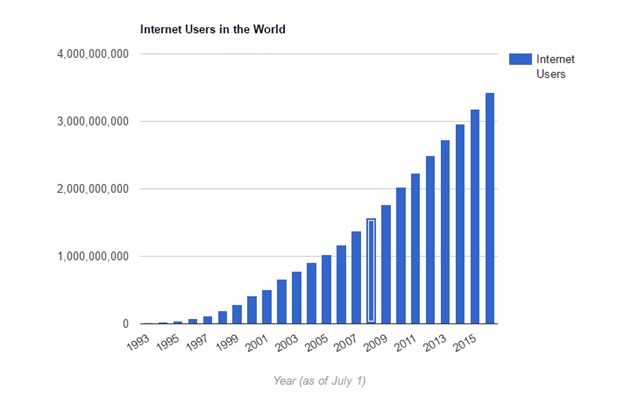 Source: http://www.internetlivestats.com/internet-users/
Can I market online?
Before thinking too far ahead, remember that having a website is useful if nobody dares to visit your website. Yes! Online Marketing works best if you can promote it thus, it takes a lot of learning along the way but don't overstress yourself because even you take baby steps, I can assure you, your business will grow as you take those little steps to becoming an online marketer.
To learn about the basics, research about:
Search Engine Optimization
Pay Per Click Advertising
Affiliate Marketing
Email Marketing Campaigns
Social Media Marketing
Mobile marketing
If you think you don't have enough time for it, consult us: HEYGOTOMARKETING AND SOCIAL MEDIA and we'll help you on how to grow your business online.
Will it work?
Think about this, a website is a promotional tool itself. It just need to have a great look and appeal to entice people to browse everything they need in it.
Putting your business online can establish great opportunities for both marketers and consumers:
Transactions are quicker
It records transactions accurately
Transactions can be handled online, possibly 24/7
You can automate:

Customer queries response
Sales Response
View Insights
Manage Emails and Direct Mails
Advertising and Campaigns
Let's just say, everything you need for your business to grow can be achieve online. You only need a good strategy and planning before you dive into it.
Conclusion:
The internet has become a business marketing space for everyone. Though it takes a proper marketing strategy to make it as much as possible, it does promises a lot of future benefits for either personal or business needs. You may check out ecommerce platform or business enterprises online to get the idea. Online marketing enables you to reach the market range you desire and get the most out of it in a very convenient way. Hope this article helps you decide if putting up your business online is a better risk to take for business growth or not.
The following two tabs change content below.
My Mission is to Motivate & Empower others to Genuinely Succeed with Online Marketing through Training & Mentoring!
Latest posts by David Moceri (see all)
---
This post was written by David Moceri
---