Complete Reputation Email Marketing System
When customers leave feedback, they also leave information that you can use for marketing. Reputation Premier gives you the tools you need to create targeted campaigns based off of what customers want.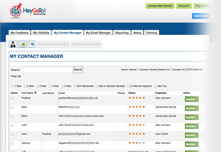 Manage Your Contacts
Reputation Premier creates a customer database. You can add or remove names as needed, and import or export contact lists with .csv files.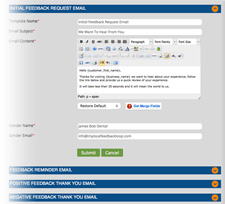 Email Campaign
A preconfigured email campaign lets you start sending review requests, reminders and thank you notes.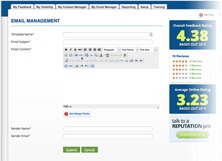 Email Just the Way You Want
You can use an in-program HTML editor to configure the emails to your liking.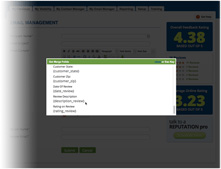 Personalize Your Emails
Merged fields give you the ability to personalize emails. Customers respond better when addressed by their name and address.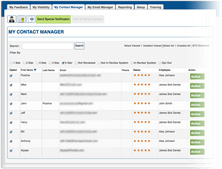 Special Emails for Special Occasions
Don't just stick with a few basic emails. Create unique ones for holidays, or to let customers know about great deals.
---

Detailed Feedback Reporting
Get all the details you need about what your customers think about your business.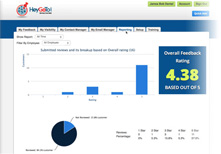 Reporting Made Simple
The Reputation Premier system puts all the relevant data (like feedback ratings and response rates) in one report. A report can cover a month, a week or a day.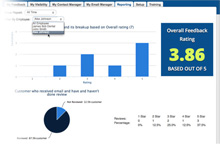 Take a Closer Look
Want to know what customers think about a specific employee or service branch? You can see for yourself with a Reputation Premier report.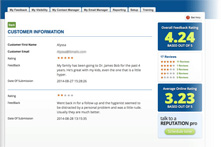 New Feedback from Repeat Customers
When a returning customer leaves new reviews, the software will connect the old feedback to the new. This way, you can see how it has (or hasn't) changed over time.
---

Social Media Integration
Maintaining a strong social media presence is essential for any business. Reputation Premier helps you strengthen your position by promoting good reviews on social networks.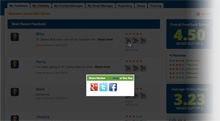 Share Reviews
Now, when you get positive reviews, you can share them on all the networks in which you're a member.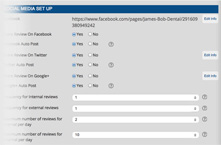 Automated and Manual Sharing
Set up the system to automatically share reviews. You decide which ones are shared, how often, and how many. Or you can manually share them with the click of a button.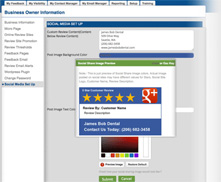 Social Media that Gets Attention
Shared reviews will include images, which will help them get more attention. Controlling your social media presence is a big part of corporate and personal reputation management these days.
---

Feedback Streaming
A steady stream of positive reviews to your website can boost customer interest.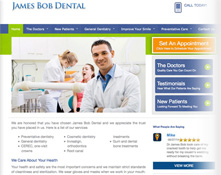 Set Up a Review Feed
A simple plugin creates a live feed on your website that displays the newest positive reviews.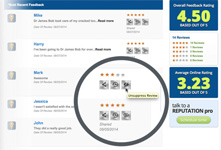 You Have Control
You decide which reviews get streamed. This way, you can filter out those that are negative, duplicates or poorly written.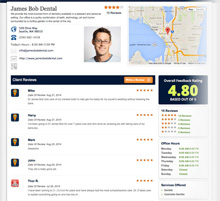 Microsite Streams
Streams aren't limited to your main website. You also have the option of adding them to your microsites. The microsite will also show the average rating from all the feedback.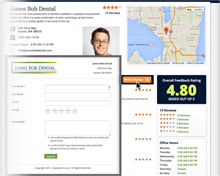 External Feedback Page
Customers can follow a link to leave a review on an external feedback page. The system uses this information to continue the feedback loop.
---

And So Much More...
We made Reputation Loop easy to learn so that you can get right back to doing what you do best.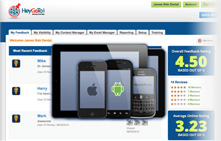 Versatile
Reputation Premier works on desktops, tablets and smartphones, so you can check on things with whatever device you like using.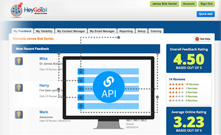 API Integration
Reputation Premier is integrated with programs like InfusionSoft, which gives you the power to manage your campaigns from other applications.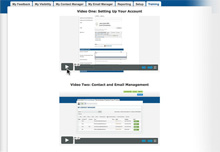 We Keep It Simple
Reputation Premier is designed to be intuitive and easy to use. It won't take long for you to become a master.
Support Team
We're experts in reputation management. Contact us if you ever need help with using Reputation Premier or in planning your campaign. We'll have the answers you need.