Why You Need Our Copywriting Services
Websites are all about content. Videos, hero images and other elements are all there to support your message, which has to be clear and compelling. Nothing turns viewers away as quickly as dull or badly written content.
HeyGoTo has a trained and experienced copywriting team that's ready to write quality content for your website. They understand how to get to the core of what you offer, and relay that idea to potential customers.
Why Google Likes Copywriting
Text is still the primary metric by which Google judges websites. A lot of this involves using proper keywords. This means finding the terms that people search for when they need to find the kinds of services that you offer.
This is more complicated than it sounds. Good web copywriting is all about finding the right balance of keywords. If there are too few, the page might not show up in a search. Using too many might end up penalizing the website. There are also LSI (latent semantic indexing) keywords, which can help boost website visibility.
Copywriting Updates Your Website
Search engines go with what's new. A website needs to regularly and frequently update with new content writing; many use blogs for this purpose. Those who don't update their blogs will fall behind competitors who do. However, you can't just throw text on a blog and call it a day. Google can distinguish between good and bad content.
Our copywriters can write relevant, interesting and keyword-friendly content for your blog. An active blog boosts your website's visibility, and can also be a great way to keep customer's attention. The more often someone goes in to check on your blog, the more likely it is that they'll see new deals and offers.
How Copywriting Helps Your Business
Google likes good copywriting.
Active blogs can drive up user participation and improve website visibility.
Good content can attract clients.
Quality copywriting can inform people of what you're offering.
HeyGoTo and Copywriting
We understand that copywriting services are an essential part of any online campaign. Our copywriters will communicate with you to understand your needs, and create content that meets your expectations.
Key Copywriting Strategies:
We do keyword research and write SEO-friendly content.
We maintain blogs.
We write compelling copy for website pages.
We write and publish press releases.
We create copy for banner ads.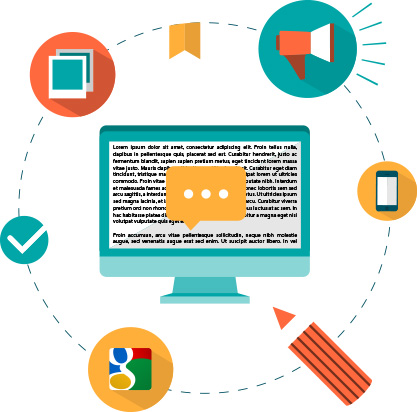 Call HeyGoTo now to learn more about copywriting and how it can help you.
No hidden fees. No obligations.
Sign up for our free 60-minute marketing audit.