On-page optimization is a classic SEO tactic, and one that can still make a big difference for your website. By going in and ensuring that each page is SEO-friendly, we can help increase your overall ranking and (by extension) your traffic rate.
The ultimate goal of on-page optimization is to help people find what they're looking for. With that in mind, let's go into more detail.
Keywords and On-Page Optimization
Google's done a lot to make sure that websites are judged by their content. What you say, and how you say it, matters. Keywords help Google determines which websites are relevant for a given search.
We'll do keyword research to find out which terms are the most relevant to your business. Each page will be assigned a particular keyword, and our team will strategically place it throughout the content, headers, alt text and other areas. Balance is the goal: each page will have the keyword density that it needs to get noticed.
That's not all. LSI (latent semantic indexing) keywords will also be included. These are keywords that are closely related to the primary keyword. Best of all, LSI keywords are based on user search behavior. Putting these in will boost your on-page optimization efforts.
Links and On-Page Optimization
Keywords are just one part of modern on-page optimization. Links—both to authoritative websites and other pages on your own site—help improve your website's overall standing. We'll also create links that use the keyword as anchor text.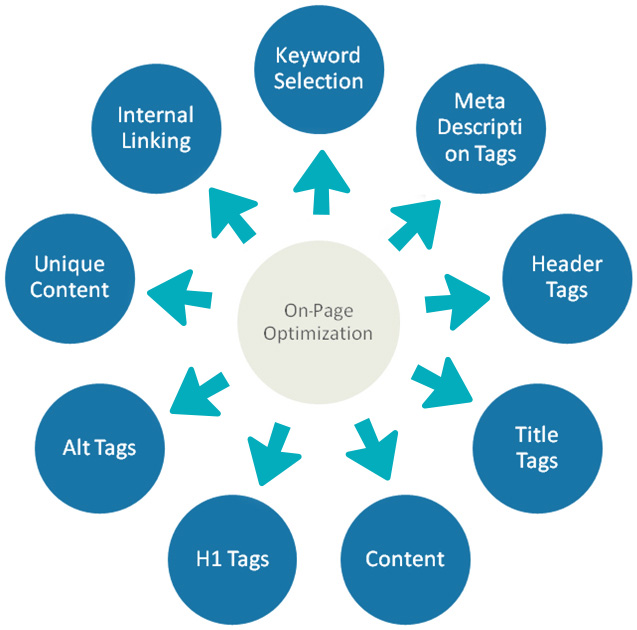 How On-Page Optimization Helps Your Business
On-page optimization increases your page ranking.
It attracts more attention for your website.
Optimized pages allow for a better user experience.
HeyGoTo and On-Page Optimization
We're experts when it comes to making websites shine. Our team will go through each page and ensure that it gets the best possible on-page optimization.
Call HeyGoTo now to learn more about mobile apps and how they can help you.
No hidden fees. No obligations.
Sign up for our free 60-minute marketing audit.